MONOGRAMMIST I.C.
---
DPG410 – St Jerome
Last quarter 16th century; canvas, oil paint 67,3 x 61,3 cm
Signed, upper right: I C fecit; inscribed S. HIERONYMUS
---
PROVENANCE
Cartwright Bequest, 1686 (no. 91, £1, 'St. Jerom in Red Leaning of his hand, 3 quarters clout in a gilt frame').

REFERENCES
Seymour 1733–5, i (1733), p. 209;1 Gentleman's Magazine 15 (1745), p. 426 (see text); Sparkes & Carver 1890, p. 33, no. 59 (no attribution); Richter & Sparkes 1892 and 1905, p. 115, no. 410; Cook 1914, p. 235, no. 410;2 Cook 1926, p. 219; Cat. 1953, p. 47; Murray 1980a, p. 302 (Unknown); Beresford 1998, p. 158 (Monogrammist I.C.); Jonker & Bergvelt 2016, p. 133; RKD, no. 275033: https://rkd.nl/en/explore/images/275033 (Jan. 27, 2017).

EXHIBITION
London 1987–8, pp. 23, 49–50, no. 31 (N. Kalinsky; ?Flemish School).

TECHNICAL NOTES
Plain-weave linen canvas. The ground is off-white. Glue-paste lined onto medium similar. There is an old tear in the skull. The background is very abraded and has been extensively retouched in the past; these retouchings are now discoloured. The painting has suffered from flaking in the past. Previous recorded treatment: 1923, lined, cleaned and restored, Reeve; 1987, impregnated with wax resin, surface cleaned, Area Museums Service for South Eastern England.

RELATED WORKS
1) Albrecht Dürer, St Jerome, signed and dated 1521, panel, 59.5 x 48.5 cm. Museu Nacional de Arte Antiga, Lisbon, 828 [2].3
2) (After?) Joos van Cleve, St Jerome in his Study, 1528, panel, 39.7 x 28.8 cm. Princeton University Art Museum, Princeton, N.J., 82-76 [3].4
3) Albrecht Dürer, Melencolia I, 1514, engraving, 239 x 185 mm. BM, London, 1910,0212.303 [4].5

The picture was probably painted in Flanders in the last quarter of the 16th century; it has not been possible to connect the initials 'I.C.' [1] to an artist. DPG410 depicts St Jerome – as the inscription says – supporting his haloed head on one hand, while his other arm rests on a skull and fingers a book. There are several ways in which St Jerome (c. 342–420), one of the Doctors of the Roman Catholic Church, is usually depicted.6 Medieval and Renaissance images derive their iconography from the Golden Legend, the Legenda Aurea, compiled by Jacopo de Voragine, a 13th-century bishop of Genoa. The saint is often shown accompanied by a red cardinal's hat and cape. He may be depicted in the wilderness, beating his bare chest with a stone in front of a crucifix, often accompanied by a lion. Or he may be shown in his study, with his books around him, again often with a lion, for example in a painting by Albrecht Dürer (1471–1528; Related works, no. 1) [2] and in many versions from (the studio of) Joos van Cleve (c. 1485–1540/41; e.g. Related works, no. 2) [3]. The Dulwich picture seems to combine the iconography of St Jerome in his study with other elements. He rests his head tilted on his arm in a way very similar to depictions of Melancholy, for instance in an engraving by Dürer (Related works, no. 3) [4]. And where almost all the other St Jeromes point at a skull, here he seems to have been reading, with his fingers still resting on the pages. As its text is illegible, it is not clear whether this book is the Vulgate, the version of the Bible that Jerome compiled by translating into Latin Hebrew and Greek and revising Old Latin texts (still in use today).

It is part of the Cartwright Bequest to Dulwich. Cartwright owned another St Jerome, presumably in grisaille: '140 St Jerom in black & whit in a black frame a closit pece', and also a related subject, a memento mori: '141 a deaths head in a black frame'.

DPG410 attracted notice when it was on display in the Old College Gallery in 1733 and again in 1745, when the Gentleman's Magazine described Jerome's face as having 'all of the severity that is produced by a detestation of immorality, with all of the composure and secret joy that piety occasions'.
DPG410
Monogrammist IC
St. Jerome, last quarter 16th century
canvas, oil paint 67,3 x 61,3 cm
Dulwich (London), Dulwich Picture Gallery, inv./cat.nr. DPG410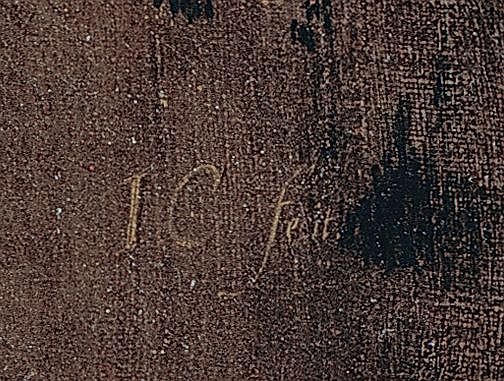 1
Detail of the monogram on DPG410.
2
Albrecht Dürer
Saint Jerome, dated 1521
panel (oak), oil paint 59,5 x 48,5 cm
Lissabon, Museu Nacional de Arte Antiga (Lissabon), inv./cat.nr. 828

3
after Joos van Cleve
Saint Jerome in his study, dated 1528
panel, oil paint 39,7 x 28,8 cm
upper center : HOMO BVLLA
Princeton (New Jersey), Princeton University Art Museum, inv./cat.nr. 82-76

4
Albrecht Dürer
Melancholy, dated 1514
paper, engraving 239 x 185 mm
Amsterdam, Rijksprentenkabinet, inv./cat.nr. RP-P-OB-11.705

---
Notes
1 'Joyning to this Room is a Gallery […] in which there are likewise some good Pictures, especially one of St. Jerome.'
2 'This is one of the better of Cartwright's pictures, and was noticed by earlier writers'; Cook goes on to quote the Gentleman's Magazine of 1745.
3 RKD, no. 293735: https://rkd.nl/en/explore/images/293735 (April 28, 2020); see also http://museudearteantiga.pt/collections/european-painting/st-jerome (April 28, 2020). This painting seems to be a simplified version of Dürer's print of 1514 of the same subject (e.g. BM, London, E,4.109).
4 According to RKD this picture is after Joos van Cleve: see RKD, no. 250256: https://rkd.nl/en/explore/images/250256 (April 2, 2017). But see Hand 2004, pp. 92–3 (fig. 94), no. 75. See also Van der Coelen 2008, pp. 110, 277, no. 23.
5 See RKD, no. 297597: https://rkd.nl/en/explore/images/297597 (July 7, 2020); see also http://hdl.handle.net/10934/RM0001.COLLECT.33183 (April 28, 2020). See for a copy in the British Museum: https://www.britishmuseum.org/collection/object/H_1958-1006-2884 (July 7, 2020).
6 For a full discussion of the saint's iconography and its 16th-century context see Rice 1985.